This year's festival will be from 6 to 16 September and will feature 4 Australian feature films:
- world premiere of Australian Anthony Maras' Hotel Mumbai starring Armie Hammer, Dev Patel and Australia actor Tilda Cobham-Hervey
- Imogen Thomas' Emu Runner
- the sci-fi horror movie Nekrotronic and
- a contemplative war film Jirga
TIFF will also showcase the Palme d'Or (Festival de Cannes) award winning short-film All These Creatures and writer-director Shelly Lauman's Birdie. https://bit.ly/2BEPgDh Screen Australia

Tickets: https://www.tiff.net/
MIKTA Seminar in Vancouver
Mexico, Indonesia, Republic of Korea, Turkey and Australia (MIKTA) is a plurilateral partnership that plays a bridging role between countries and regions to promote global governance and build consensus on complex and challending issues.
Join us for a seminar to discuss "The role of middle powers in the era of confrontations among major powers" and listen to the views of MIKTA countries & Canada on 18 September at 10:00 am in Vancouver .
Registration link: https://www.eventbrite.ca/e/mikta-seminar-tickets-49411990594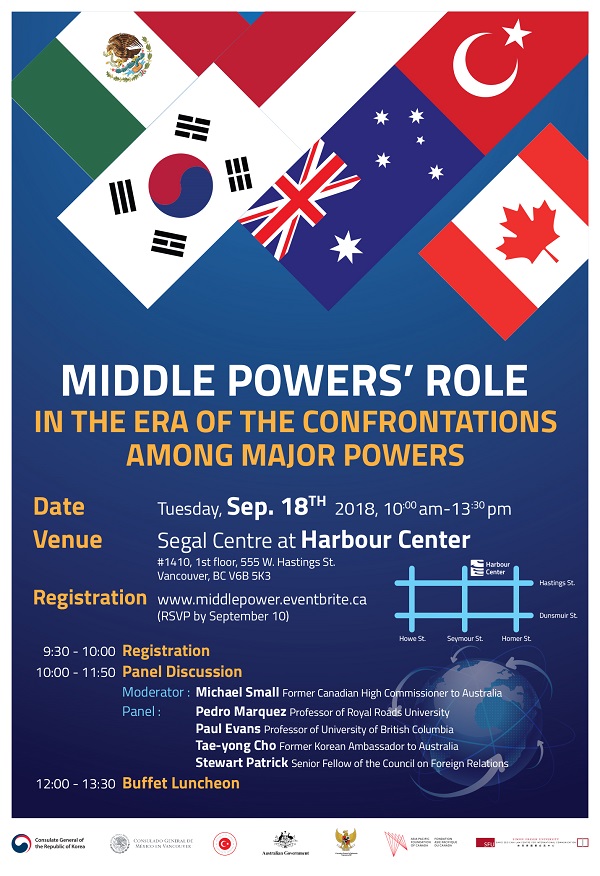 28th Annual University of Sydney North American Alumni Conference - Washington DC, October 2018
This year's annual conference of The University of Sydney North American Alumni Association (aka SUGUNA) -- the USYD alumni community in Canada, USA, and Mexico -- will take place in Washington DC from 18 to 20 October 2018, in partnership with the United States Studies Centre at the University of Sydney. This conference is a great opportunity to connect, or re-connect, with fellow alumni of the University of Sydney. The conference begins with a Cocktail Reception at the Australian Embassy on Thursday 18 October. The alumni association's Young Alumni Council is hosting an evening event on Friday 19 October. The conference comes to a close with the USYD North American Alumni Annual Dinner on Saturday 20 October at The Cosmos Club of Washington DC. The alumni association's James D. Wolfensohn Award will be presented at the dinner. During Friday 19 October and Saturday 20 October there will be a series of talks, panel discussions, and round tables on the US mid-term elections and on public policy issues like foreign policy, health, and higher education. Tours of Washington DC are being arranged as well, for those who would like to see some of the city.
Early Bird registration is now open here.
For inquiries, please contact: dc2018@sydneyalumni.org
Associations and Activities
Expatriate groups across Canada
DownUnder Social Club of Calgary
DownUnder Social Club of Edmonton

Australian Rules Football
Ontario Australian Football League
Ottawa Swans Australian Football Club

Cricket
The Ottawa Valley Cricket Council

Australian Wine Societies
The Australian and New Zealand Wine Society of Ottawa
Australian Wine Society of Toronto
Australian Wine Society of Calgary